ERVARINGEN
24 februari 2015
"Ongeveer half oktober 2014 ben ik begonnen bij Ramon Riemersma, die ik via internet leerde kennen, om een gitaar te bouwen. Ik wist nog niet precies nylon of staal maar begon wel al. Al gauw had ik beslist dat het een OM staal zou worden, met cut-away en hij moest ook versterkt kunnen worden.
Half januari is hij na hard werken afgekomen, en ik moet zeggen boven mijn verwachting, zo mooi, maar ook zo fantastisch klinkend. Ik heb het geweldig goed naar mijn zin gehad in het gezellige casa Riemersma, waar ik tussen de middag altijd meegegeten heb.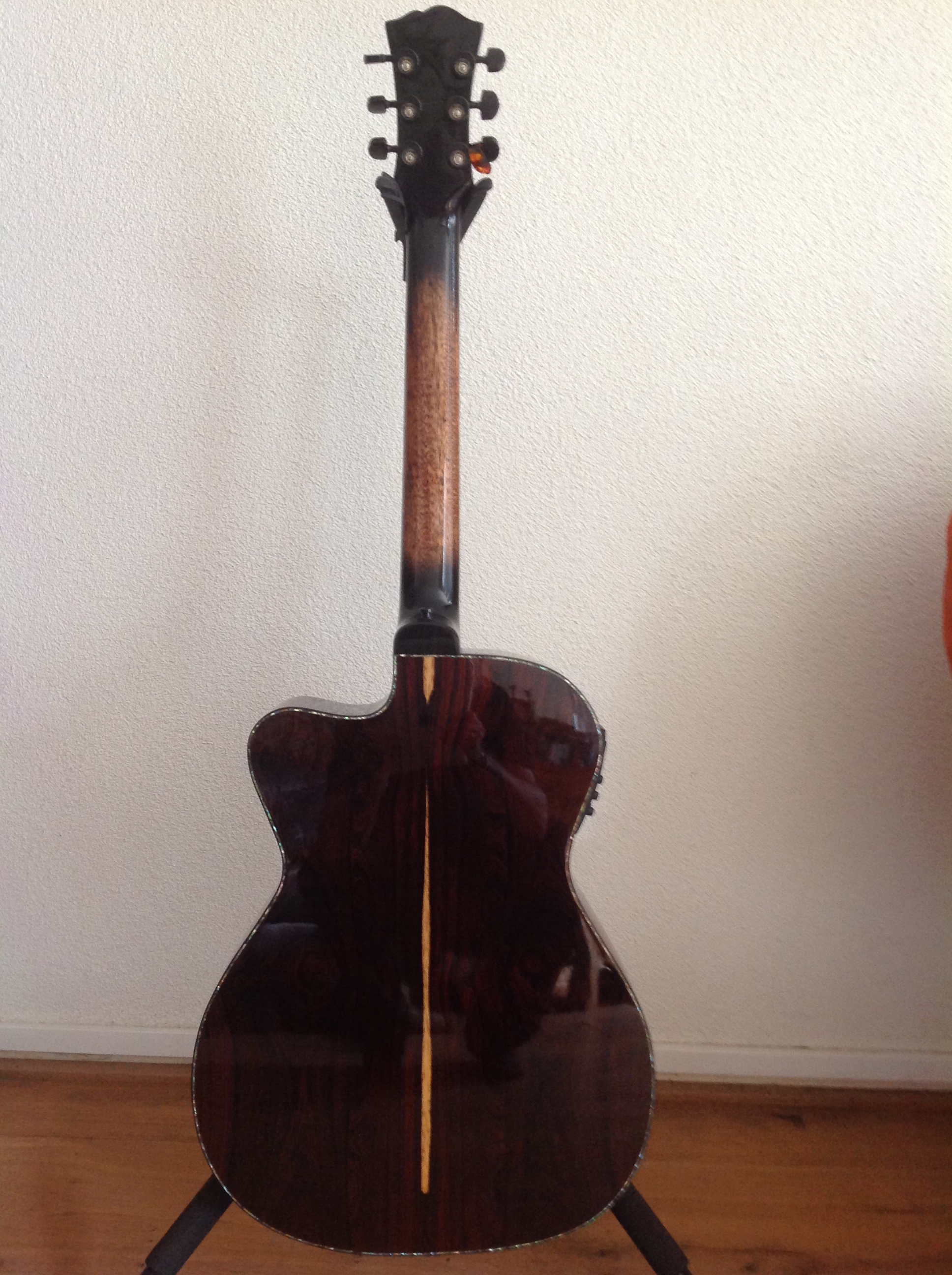 Afgelopen zondag heb ik voor het eerst akoestische opgetreden met mijn nieuwe juweeltje, en het was magisch. Misschien dat ik nog besluit een nylonsnarige te maken, maar ff nog niet. Ik kan iedere gitarist die zelf een gitaar zou willen bouwen, deze manier aanbevelen onder de bezielende leiding van Ramon."
DJ Middelkoop, Gorinchem
Making a guitar with Ramon
Test yourself and be prepared for satisfaction
I knew it would be a test of my abilities and skills in woodworking, but this took me to a whole new level. It was testing, satisfying and fun, but most importantly the end result defies most peoples' perception of what a 'hobbyist' can do – and I am unusually proud of what I have created.
If you have ever thought about making your own stringed instrument, and you have the time and some basic skills in woodworking, then don't hesitate any longer; go do it – you won't regret it. It will be something to remember for the rest of your life and, on top of that, you will have in your possession a musical instrument that any professional player would be proud to have in their hands and be heard playing – as you will be.
The Master
Ramon Riemersma is one of a select few who can help you achieve this goal. In fact, he is probably out there on his own. He gets you where you want to be without fuss or frustration and there are very few people can do that without imposing their own rules, regulations and pre-conceived ideas. He makes making a complex and refined musical instrument look easy, step by step; piece by piece. But make no mistake, he is as critical as can be when it comes to accuracy and getting it right – we are talking anything between 0,1 to 0,01 of a millimeter in wood – and it shows in the finished article.
How it works
Each single element in the construction of a guitar is carved from a raw bit of dried, dead tree! It's made of wood and that's where the fun starts; choosing your colors and grains; textures, patterns and designs. Touching, feeling, smelling the raw material that will come to life, glowing proudly, refined and majestic as a finished guitar. Before you know it, you will have a large assortment of very accurately planed and shaped pieces of dead tree (wood). Slowly but surely they will be glued together with the help of Ramon's jigs and fixtures – of which he is a master and you will be thankful.
The day the front and back meet the sides and neck, is like putting the roof on a house. You can see yourself in your armchair in front of the TV – or in this case, you can hear the music. From that point on you are racing to the finish line, scraping, sanding, fettling and finishing, ready for the dreaded spray booth. No matter how good you 'think' you have prepared your instrument; lacquer will show up every defect there is – especially the first coat. However, with patience and perseverance the day comes when the bridge and machine heads are fitted and finally the strings are tensioned and tuned.
How it feels – and in conclusion
Taking an instrument in your hands – made by your own hands and hearing the sounds that hit your ears for the first time is……well, we all have our own 'wow' moment to compare (mine was in the back of Mini in 1971). The sound quality goes beyond 'shop bought', no matter how much you pay; my guitar delivers more; is worth more.
Ramon has a well equipped work shop, from the smallest plane in the world! (Believe me, I saw him sharpen it) to thickness sanders and the sharpest chisels I have ever had in my hands. He is passionate, enthusiastic and knowledgeable and I would recommend anyone, at any level, to work with him; be guided and taught to achieve their dream. I did.
Dick McKechnie, May 2013
"Na het stoppen met mijn bedrijf, ben ik begonnen met klassiek gitaar spelen. Vroeger wel wat met akkoorden gespeeld, maar het notenschrift is aan mij voorbij gegaan. Jammerrrrrrrrrr, maar ja. Ben enthousiast over het spelen, en zo is het idee geboren om mijn eigen gitaar te bouwen. Wat is nu mooier om muziek te studeren op je eigen gebouwde gitaar. Zo gezegd gedaan, en ingeschreven in Puurs. Hier geven ze een opleiding tot gitaarbouwer. Elke week 5 uur gedurende 40 schoolweken. Na een skiongeluk in Oostenrijk werd ik gedwongen om te stoppen in Puurs. Terug instromen was moeilijk, daar ik een te grote achterstand met het bouwen had.
Het idee om mijn eigen gitaar te bouwen is niet weggegaan. Dus maar even Googelen, en uitgekomen bij Riemersma Guitars. Bij Riemersma Guitars is het mogelijk om een cursus te volgen om je eigen gitaar te bouwen. In november heb ik contact gezocht met Riemersma Guitars en het is zelfs mogelijk om dit in een Fulltime verband te doen. Heb een afspraak gemaakt met Ramon Riemersma, en zijn op de koffie gegaan, om het een en ander af te spreken. Met als gevolg dat ik in maart fulltime kon beginnen. Na nog een bakkie, tevreden huiswaarts gegaan.
En inderdaad in maart begonnen bij Ramon. Hout uitgezocht en beginnen maar. Toen ik het hoopje hout zag liggen dacht ik hoe the f$#@ck is het mogelijk om hier een gitaar van te bouwen. Maar onder de supervisie van Ramon en zijn deskundige adviezen is het mij toch gelukt. Ramon heeft mij geleerd om rustig te blijven en dat er voor alles wel een oplossing is. Waar ikzelf twijfelde om bepaalde handelingen aan de gitaar te doen, nam Ramon het over. Na een maand bouwen is de gitaar klaar en wat een prachtig resultaat. Het geluid is prachtig, en de persoonlijke items die erin verwerkt maakt het geheel helemaal bijzonder.
Al met al ben ik zo enthousiast geworden dat ik bij Ram