ERVARINGEN
24 februari 2015
"Ongeveer half oktober 2014 ben ik begonnen bij Ramon Riemersma, die ik via internet leerde kennen, om een gitaar te bouwen. Ik wist nog niet precies nylon of staal maar begon wel al. Al gauw had ik beslist dat het een OM staal zou worden, met cut-away en hij moest ook versterkt kunnen worden.
Half januari is hij na hard werken afgekomen, en ik moet zeggen boven mijn verwachting, zo mooi, maar ook zo fantastisch klinkend. Ik heb het geweldig goed naar mijn zin gehad in het gezellige casa Riemersma, waar ik tussen de middag altijd meegegeten heb.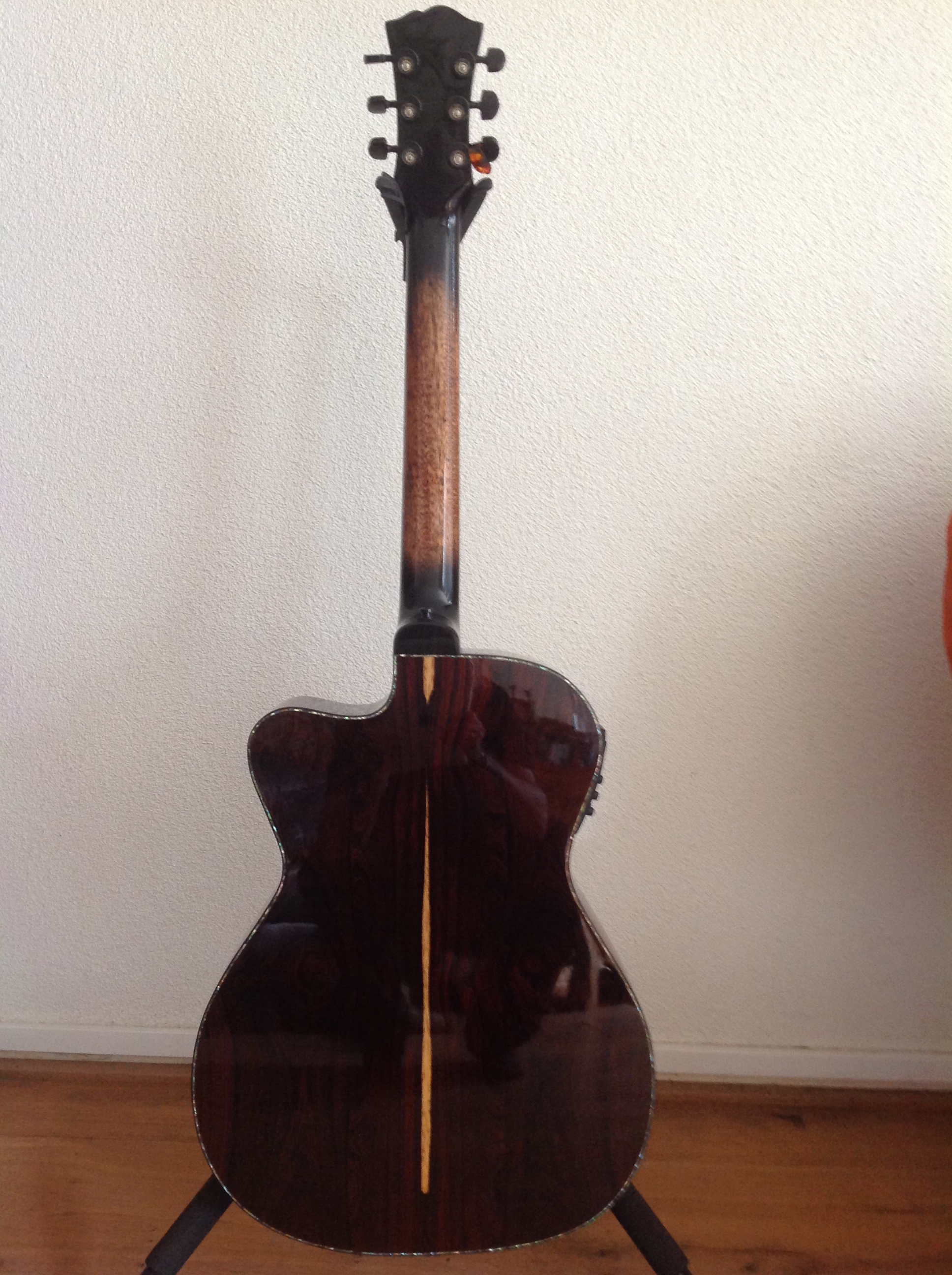 Afgelopen zondag heb ik voor het eerst akoestische opgetreden met mijn nieuwe juweeltje, en het was magisch. Misschien dat ik nog besluit een nylonsnarige te maken, maar ff nog niet. Ik kan iedere gitarist die zelf een gitaar zou willen bouwen, deze manier aanbevelen onder de bezielende leiding van Ramon."
DJ Middelkoop, Gorinchem
Making a guitar with Ramon
Test yourself and be prepared for satisfaction
I knew it would be a test of my abilities and skills in woodworking, but this took me to a whole new level. It was testing, satisfying and fun, but most importantly the end result defies most peoples' perception of what a 'hobbyist' can do – and I am unusually proud of what I have created.
If you have ever thought about making your own stringed instrument, and you have the time and some basic skills in woodworking, then don't hesitate any longer; go do it – you won't regret it. It will be something to remember for the rest of your life and, on top of that, you will have in your possession a musical instrument that any professional player would be proud to have in their hands and be heard playing – as you will be.
The Master
Ramon Riemersma is one of a select few who can help you achieve this goal. In fact, he is probably out there on his own. He gets you where you want to be without fuss or frustration and there are very few people can do that without imposing their own rules, regulations and pre-conceived ideas. He makes making a complex and refined musical instrument look easy, step by step; piece by piece. But make no mistake, he is as critical as can be when it comes to accuracy and getting it right – we are talking anything between 0,1 to 0,01 of a millimeter in wood – and it shows in the finished article.