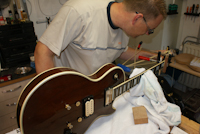 Unfortunately, something can go wrong with your string instrument. A neck can break or there is a crack in the top. All of these are annoying problems that prevent you from playing on your instrument.
Riemersma Guitars is a reliable address for repairing, restoring and adjusting your guitar. Ramon has gained a lot of experience and has already done a lot of repairs on guitars.
Below is an overview of the common repairs on guitars. In our blog we also regularly tell you which repairs have been carried out. We also gladly help you to adapt your instrument even better to your wishes. You can think of installing an element in your guitar or replacing the frets.
"Class repair carried out on my José Marin Plazuelo from 1985" H. Koot
Broken neck or head of a guitar
A broken neck / head of a guitar is very common. The head of a guitar is the most vulnerable part of a guitar. But fortunately it is good to repair. It is important to immediately remove the tension from the guitar by loosening the strings. If necessary, unscrew the truss rod so that there is no tension on the fracture and the wood from the inside. Leave all loose parts and bring any wooden parts to the workshop. Do not start working with glue yourself, because the break is more difficult to repair.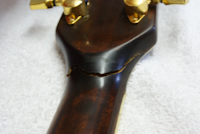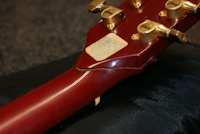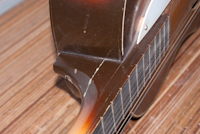 The old paint is removed and the break is repaired with wood glue. The glue clamps compress the crack again. Any glue residues are removed and then the neck has to be repainted. The sooner one arrives, the better the crack can be repaired. The advice is to keep a guitar in a case. In this the instrument is better protected against falling or falling over. Unfortunately, it also happens that a break is more difficult to repair, for example because he has already been glued. Often this can also be repaired, but it takes more work and requires a different approach. And sometimes it must be decided that the neck can no longer be repaired and must be replaced.
"Thanks again for putting the neck back on the body and getting rid of the screw holes. The Framus is now electrically and easily playable."  
H. Zomerhuis
Cracks in sides, top, back of a guitar
Fluctuations can occur spontaneously due to temperature fluctuations or changes in humidity. It is always a painful moment to see a crack in a guitar. A guitar is a natural product made of solid wood and can shrink or expand. Therefore, try to keep the temperature and humidity constant. The fewer fluctuations the better. With a hygrometer you keep an eye on the humidity. This should be between 45% and 55%. With a humidifier, for example, you can regulate the humidity well in the winter. With an air dryer / dehumidifier you reduce the humidity.
Click here for a report of the repair of the José Marin Plazuelo guitar.
A crack in a guitar can often be repaired very well. You always keep all wood splinters and parts. Sometimes the back or top must be removed in order to get to the damage as well. By heating the glue, the back or top is loosened. This is a complete undertaking and is expertly carried out by Ramon. Then the crack is repaired with glue a
nd possibly wood dust or a custom-made splinter. Parts that are missing are made again and replaced. Then the whole thing is put back together and the guitar is restored. Riemersma Guitars has its own spray booth and can give the guitar a new layer of paint. A polished guitar can also be provided with a layer of polish. In this way the guitar is beautifully restored and sometimes there is almost nothing to see.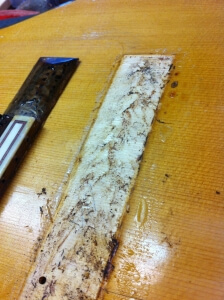 "Thanks again for putting the neck back on the body and getting rid of the screw holes. The Framus is now electrically and easily playable."  H. Zomerhuis
Bridge repairs
This is also a vulnerable part of the guitar. The bridge can comes loose and can no longer be played. Often the temperature and humidity can also play a role here. Or maybe you want another bridge on the guitar. Do not try to reglue the bridge on a guitar yourself, because it is a tedious job. The top of a guitar is slightly curved and therefore the bridge must follow the same curvature. Furthermore, the bridge is of great importance for the sound of the guitar. Riemersma Guitars has done many experiments with placing other bridges and therefore has a lot of experience in optimizing the bridge of a guitar. The saddle or the nut can also be replaced. Riemers